Hospitality Marquee.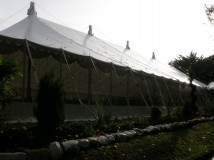 A hospitality Marquee is a great place to entertain clients or guests. We have been manufacturing Marquees suitable for hospitality for many years, and can supply semi permanent structures to the size and design you require. We can also include extra tentage such as reception tents or catering annexes.
A beautiful interior lining will wow your clients. Which can be colour coordinated to suit, and we can also include carpet, wood floor, lighting, heating and furniture.
We can also offer, cleaning and maintenance packages,which keep your structure in top condition. Many of our customers, have their marquees taken down in the autumn, cleaned and stored over winter, and then re-erected in the spring, in preparation for the new season.
Please contact us for more details.