Protective covers for winter.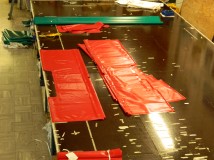 Heavy Duty PVC, is an excellent product for protecting goods or machinery from the elements during winter months.
Plain flat fabric can be supplied as is, or made up to size in various colours, Tight fitting covers can be individually manufactured to protect vehicles or machinery for example .
Please contact us for more details.